How many Christmas Spanish phrases do you know?
There are so many great words and phrases related to the holidays that I couldn't possibly put them all into a single post. While each Spanish speaking country will have their own unique touch and variations of these Christmas Spanish phrases, everything I've included on this infographic will be understood by any Spanish speaker. Arm yourself this infographic and you'll be able to spread Christmas cheer anywhere Spanish is spoken.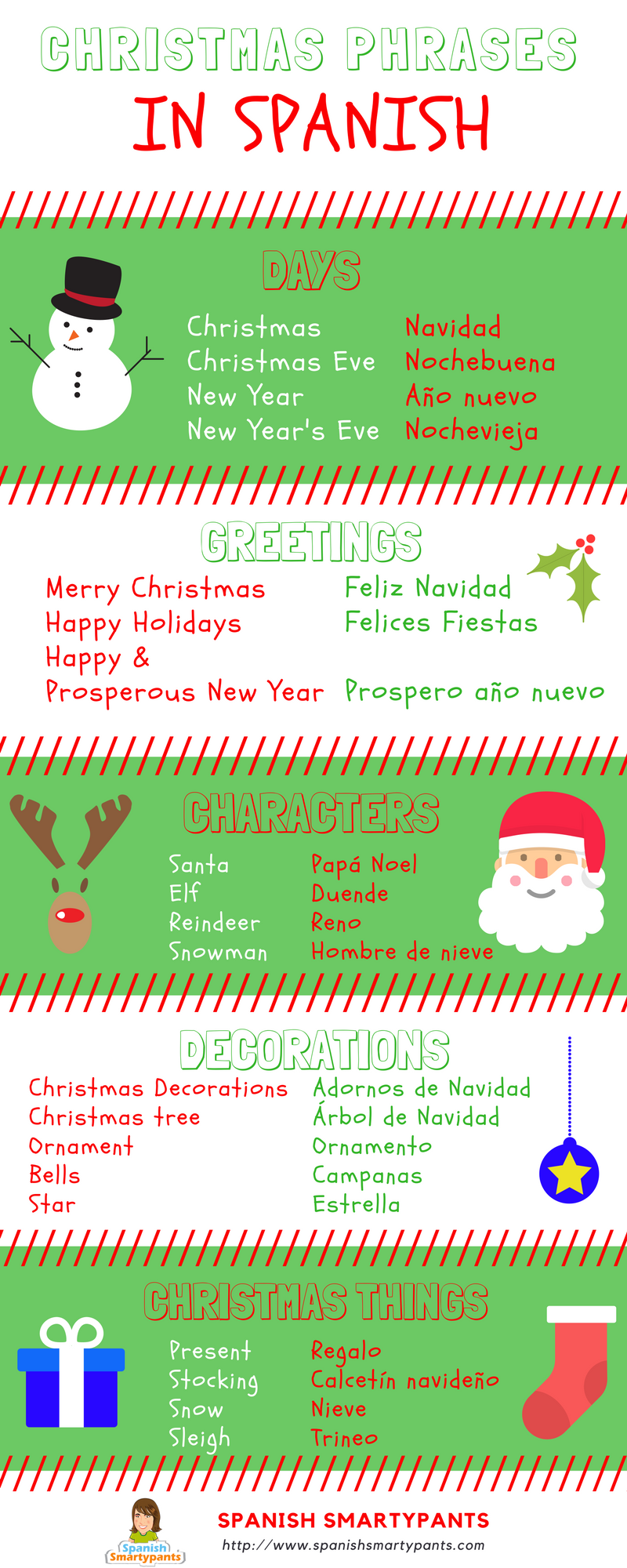 While the infographic would make a great print out for a classroom, I'm including the text as well, just in case you'd prefer to have the Christmas Spanish phrases in a simpler format. I've also added in a few bonus phrases and words that didn't make it onto the infographic!
Days
Christmas – Navidad
Christmas Eve – Nochebuena
New Year – Año Nuevo
New Year's Eve – Nochevieja
Bonus words
Three Kings – Reyes Magos
Feliz día de los Reyes – Happy Three Kings Day
Three Kings Day (January 6th) is widely celebrated in many Latin American countries. In fact, in some countries, like Puerto Rico, Three Kings day is celebrated just as much as Christmas day.
Greetings
Merry Christmas – Feliz Navidad
Happy Holidays – Felices fiestas
Happy/prosperous New Year –Prospero Año Nuevo
Bonus words
Felicidades – Happy Holidays/Happy any holiday!
This phrase can be used on birthdays, anniversaries, and around the holidays. It also translates as "congratulations." This is a great all purpose word for celebrations, all year long.
Characters
Santa – Papá noel
Elf – Duende
Reindeer – Reno
Snowman – hombre de nieve
Decorations
Christmas decorations – Adornos de Navidad
Christmas tree – Árbol de Navidad
Ornament- Ornamento
Bells – Campanas
Star – estrella
Bonus words
Lights -Luces
Candles – Velas
Christmas Things
Present – Regalo
Stocking – Calcetín navideno
Snow – Nieve
Sleigh – trineo
Bonus words
Candy Cane – Bastón de caramelo
Jingle Bells – Cascabeles
Cookies – Galletas
I hope you enjoy these Christmas Spanish phrases. ¡Feliz Navidad y prospero Año Nuevo!